What are the Top Toolbelts for Electricians – with Reviews
Any construction worker is known for their expertise and the arsenal of tools they carry. Having the right set of tools for that kind of job is very important. Any construction or electrical worker relies on their arsenal of tools to get the job done. Thus it is essential to have the right set of apparatus. Some other forms of tools also get recommended in case of an uncertain and unforeseen incident. So naturally choosing any particular brand can be a daunting task. Before one heads out to the market, they need to make sure that they have researched their desired product thoroughly. Most mentioned here are made of leather. The tool belts listed below are the perfect fit for Journeymen as well as Master Electricians for holding their tools like Pliers, Power drills and drivers, Measuring devices. etc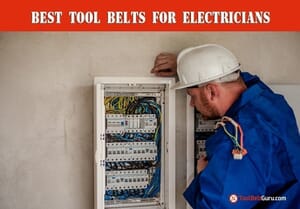 Top Electrician Tool Belts Comparison
Model
Product Name
Waist"/Size
Pockets/Holders
Material
Buy Now

1
1.TradeGear MEDIUM 31-35" Electrician's Belt & Bag Combo
S,M,L,XL
27
DuraTek nylon



2
2.Occidental Leather 5590 M Commercial Electrician's Set
S,M,L,XL,XXL,XXXL
20
Leather



3
3.CLC Custom Leathercraft 1614, Heavy Duty Framers 5-Piece Comfortlift Combo Tool Belt System
29"- 46"
20,31
Leather



4
4.CLC 1608 Electrician's Comfort Lift Combo Tool Belt

(Recommended)

29"- 46"
28
Leather



5
5.Occidental Leather 8089 LG OxyLights 7 Bag Framer Set
S,M,L,XL,XXL,XXXL
20
Leather and Nylon



6
6.OX Tools Four Piece Construction Rig | Outback Leather
29"- 46"
22
Top grain oil-tanned 'saddle' leather



7
7.ToughBuilt - Journeyman Electrician Pouch + Shoulder Strap-ClipTech
M,L
14-various
leather



8
8.ToughBuilt - Handyman Tool Belt Set - 3 Piece, Includes 2 Pouches, Padded Belt, Heavy Duty, Deluxe Organizer Premium Quality
32"- 48"
10
leather



9
9.Gatorback B270 Mechanical Electrician Contractor Combo. Versatile Tool Belt for Electricians Removable Tool Carrier
S.M,L,XL,XXL
9,21
leather



10
10.Milwaukee 48-22-8110 Electricians Work Belt
32"- 52"
20
Leather



11
11.Tradesman Pro Electricians Tool Belt, Medium; Klein Tools 55427
M,L,XL
10
Leather



They should understand their needs and also know whether that particular tool belt will help in that situation or not. Also one needs to realize that not a single product is perfect. As such all the range of products would have their advantages and disadvantages. One needs to weigh in all the pros and cons of a product before deciding to buy it. So now one needs to look at the best available electrician tool belts available in the market.
 TradeGear MEDIUM 31-35″ Electrician's Belt & Bag Combo – Heavy Duty Electricians Tool Belt
The brand is unknown to an average person. But this organization has made a name for itself in the construction business. They have already displayed their business acumen by bringing one of their best tool belts to the market. Despite having remarkable quality their products are only complementary to the construction process and are not a necessity. It also gets noted that their tool belt is made up of a durable fabric instead of the leather. Though leather is considered better, the material in this belt is also perfect. It has all the bells and whistles one may expect in a tool belt.  The belt itself is made up of nylon material which is considered durable and better suited to rough situations.
The pros of this belt is that has ample space and compartments for one's tool. It also gets made of nylon which is durable. The brand also offers various size options for the belt making it more flexible. The problem with this belt is its stiff nature of the material used resulting in a cumbersome experience for the user. The user experience, therefore, would not be very comfortable which can account for its drawback. This one is the top tool belt for an electrician.
Occidental Leather 5590 M Commercial Electrician's Set
The Occidental brand is an already established brand which has been the field of construction for several decades. The electrician tool belt made by this brand has all the features an electrician might need in their working. This tool belt has many compartments which can help one carry many tools and devices with them is also a neat feature. Its traps are also made of leather and not of nylon which can get seen in other products. This makes this product quite desirable, but this product also suffers from problems of its making. Although leather has been used to make this product, it is not everywhere. Fabrics like Nylon too have been used.
The tool belt is made up of leather, but nylon has been used to make it. Making this product somewhat mixed in this regard. The tool has more than thirty different compartments to carry all forms of tools making this quite good in use. Hence, any worker can take a large number of tools and utilize them efficiently in a convenient manner. But, the belt seems to lack a place to hold a measuring tape which is very necessary for working on measures.
Tool belts of this kind are essential as they increase the worker's productivity and enable their efficiency.
CLC Custom Leathercraft 1614, Heavy Duty Framers 5-Piece Comfortlift Combo Tool Belt System
The brand of CLC does not focus on going after the prominent features which specific other belts may have. They instead turn their focus on giving features to the straps which can be used by all. To keep the cost down, they do not use leather or other fabrics like nylon. They use polyester fabric which is adequately secure and can help sustain the weight of the weigh to of all the tools. Using polyester fabric also ensures that the manufacturing cost of the belt remains minimal with no additional overhead. The belt has twenty pockets which might seem limited but can hold all the necessary tools. The pricing being quite less and the overall comfort of the strap make this an attractive product.
This belt aims to be comfortable and cheap focusing more on better user experience. The polyester fabric does not make this the most durable product but does make it the most affordable of the bunch. The limited amount of pockets is probably the most significant limiting factor for this belt. The limited number of pockets would probably be the deal breaker for some people. Since this product lacks a sufficient number of pockets, its users might find it difficult to use, because, workers carry several small parts and tiny units that can be taken conveniently with this suit. Learn more about tool belts for framers.
CLC Custom Leathercraft 1608 Electrician's Comfort Lift Combo Tool Belt 
CLC Leathercraft makes tool belts keeping the user's comfort and the usability of their product in mind. Their aim remains the same throughout the making of the product. They want to provide maximum comfort to the user so that they can work without any hassle from the belt. As such, the belt has a harness which can provide additional support to the pouches and the compartments in it. What makes this product even better is that it is the cheapest and one of the most inexpensive products on the market. The quality provided in this product despite being quite reasonable is what makes this product excellent. This combined with few inches thick shoulder pad makes it one of the most comfortable products on the market.
Being one of the cheapest belts in the market along with maximum comfortability makes it an attractive product.  The complaint associated with this product is its lack of size for shorter people. Though taller people stand to get benefitted by the product, shorter people might find the pockets and compartments hanging. It is also made up of polyester fabric which may not be so durable in the long run.
Occidental Leather 8089 LG OxyLights 7 Bag Framer Set
Occidental Leather LG is one of the most durable products on the market. The use of top grain leather for every inch of its body makes it one of the safest product on the market. The leather is a stiff but flexible material which can expand according to the size of the tool. This makes the compartments of the belt to comfortably hold onto the tools. The pockets present in this belt also use heavy duty rivets which make it further durable and robust.  The belt, however, is limited by its number of pockets. The belt has twenty-three pockets which make it slightly limited in holding some tools and devices. But, because the product is so expensive, it might not attract the attention of the majority of workers. The sizes and waist sizes are Small 29″-32″, medium 33″-35″, large 36-39, x-large 40″-44″, xx-large 45-49, xxx-large 50″-54″
The Occidental Leather LG is an excellent and durable product in the market. But it is also an expensive product as it is made entirely from top grain leather. It also has a limited number of pockets. Nevertheless, if one is searching for a durable and robust product, then they can go ahead and buy this belt.
OX Tools Four Piece Construction Rig | Outback Leather
The brand of OX may be a bit behind the brand value of The Occidental, but their products are considered equally good.  The combination of durability and usability is one thing which this brand has perfected. The OX brand has not explicitly targeted the tool belt audience. Instead, they have created a product that can get used by all, worker or any average person alike. Their products get considered as durable, as they have gotten made from top grain leather. The limiting factor of this product is the lack of choices when it comes to size. Only one particular size is available although it gets claimed that it can fit all the extremes that are from 29-46 inches. The rig also has twenty-two compartments making it limited in this regard.
The leather used in this rig is top grade and pre-oiled making to make it more comfortable from the get-go. This makes it easier to adjust its shape. But it has limited storage. The lack of size options is also another factor going against it. Usage of leather in this product also makes it costlier and thus out of reach of ordinary everyday folks.
ToughBuilt – Journeyman Electrician Pouch + Shoulder Strap, Adjustable Flashlight Holder, Adjustable Tool Pockets, 21 Pockets, and Loops, (Patented ClipTech Hub & Belts
The ToughBuilt Journeyman matches all the needs of an electrician. It comes along with pockets which can hold the tools and also some wire testers.  The pockets of this rig also feature rivets which strengthens the holdings of each compartment and pockets.  The tool belt also features a flashlight wrap which can help one work in dark conditions. This makes the tool belt an all-weather friendly item. The tool belt is light too which makes it easier to carry and move around. As such, this particular tool belt cannot get the recommendation for heavier equipment. One more Toughbuilt tool belt review below
The ToughBuilt Journey is a beautiful and well-priced product. It can serve all the purposes of an electrical tool belt. The presence of rivets makes its pockets extremely durable. The presence of wraps for flashlight gives it some more stands out features. But the drawback of this product is its limited carrying capacity regarding weight. As such, only medium to lightweight products gets recommended with this.
ToughBuilt – Handyman Tool Belt Set – 3 Piece, Includes 2 Pouches, Padded Belt, Heavy Duty, Deluxe Organizer Premium Quality
This product features a supportive and user-friendly build. It can be used for a wide range of things and can get utilized by carpenters and plumber, not just electricians. This belt has ten pockets and can fit waists of average sizes ranging from thirty-two to forty-eight inches. The tool belt gets made in such a way that it redistributes its entire weight from the shoulder up until one's hip. This makes working with this belt while wearing it quite convenient and comfortable. The redistribution of mass also helps an electrician for working for several hours at once. It also has plastic pockets which can be used to store some everyday items like measuring tapes or notebooks. All of this can get accessed by opening or closing of the zippers provided with the pockets.  The zipper attached to this belt is of questionable quality.
Gatorback B270 Mechanical Electrician Contractor Combo. Versatile Tool Belt for Electricians, Contractors, etc. Removable Tool Carrier (Large 35″-39″)
The tool belts are an efficient device to enhance the functionality of the workers. These tool belts reduce the unnecessary efforts of carrying around the heavy tools with one's hands, reducing the efforts of that individual. This belt is built specially for warehouse purposes. This tool belt comes with nine mini pockets and a tape chain. It also carries 21 pockets, a hammer holster, a key or tool clip, and a tool strap. Also carries a B700 shoulder strap that connects to the mechanical pouch. It can be used as a separate tool carrier also. These tool belts are very important items for the safety of the workers. The quality of the tool belts should not be compromised anyhow.
Milwaukee 48-22-8110 Electricians Work Belt
This electricians work belt is easy and convenient for usage. It is easy to handle. This product is made from durable quality materials and is available in multiple colors. This product is available in India also. These tool belts are necessary for the sole safety of the workers as they play a crucial role in enhancing their efficiency. The safety and functionality of the tool belts are a necessity. Hence, manufacturing these tool belts by keeping in mind the sole safety and convenience of the workers, which not only leads to an increase in their productivity but, also lets them stay relaxed and in comfort.
Tradesman Pro Electricians Tool Belt, Medium; Klein Tools 55427
An efficient tool belt would come to an end with this product. It is so because it is available in variants of sizes. Hence, you can buy one on the basis of your needs. It is available in medium, large and extra-large variants that can accommodate your needs in a fulfilling manner. Interestingly, it has got removable pouches which would only let you carry the tools you want to carry. Make sure to check klein electrician tool belt
How to Choose Your Perfect Tool Belt?
In the past, you may be duped of buying inferior quality tool belts that only lasted for a few days. However, all your woes would be put to rest with this tool belt. This tool belt comprises pockets that only exudes practicality. It has got wide open pockets which makes it easy to carry various types of tools in one go. Interestingly, it also comprises a padded belt that has got a mesh interior. This makes sure that it can absorb all the pressure that is exerted by the carrying of a varied number of tools. Another phenomenal aspect of using this tool belt lies in the fact that it comprises a drill bit pocket. You can carry the bits that can be inserted into the drilled hole easily with this tool belt. Another highlighting aspect of using this tool belt lies in the fact that the belt is breathable. Hence, if you have skin allergies, this tool belt is highly recommended to you. Moreover, the brand is in the market for a considerable period of time and is dishing out quality products at great prices.
Best Electrician Tool Bag-Rugged Tools Cable Bag – Jumper Cable Bag

When it comes to choosing the Best electrician tool bag, all you require is to consider several facts like price, material, durability and more. It is one of the best quality electrician tool bags. This bag seems to be absolutely well made and it has lots of compartments. Measuring 14.5″ X 14″, this tool bag is quite large to store extension cords, jumper cables, tow straps, RV hoses, and more. It features the quick zip close and it also keeps off the excellent accessories together when not in use. This is quite lightweight so that you can carry this whenever you are moving from one place to another.
Pros
It has the great durability
It holds all the essentials
It allows space for the taller tools
Its design ensures the better placement of the tool
Ideal for service mechanics
Cons
A little big for the average impact driver or even drill
Best electricians Pouch-Occidental Leather 5500

Offering the quintessential product, this specific tool pouch is possibly just about the sturdiest electrician's tool belts that you will find. If you are opting for the tool pouch with great comfort, then you can simply choose this one. It features a good quality material and that is a fact, it is durable, sturdy and quite long lasting. This product consists of tough leather. As such, this tool pouch has intuitive designs and hand specific tool holder organizers, which enhance working rhythm on the job. You require being aware that the tool belt comes along with the exclusive open pocket design. It permits better accessibility and reinforcing. The dimension of the product is 9 x 13 x 4 inches and the item weight is 2 pounds. Click HereClick image to Buy or check out best tool pouches for electricians
Pros
Easy to load or even unload
More than almost 20 Pockets
Extremely comfortable
This is also inexpensive
Conclusion
The best electrician tool belts with pouches, holders, and pockets are the occidental leather tool belt only which we reviewed #2.CLC leather tool belts(#3) are also electrician tool belt with suspenders.#5 is the best tool belt for electricians. Most tool belts are made of leather. The most vital criteria while choosing a framing tool belt are the type of instruments you are going to store. The aspects of durability also play a pivotal role in its selection. It was also dependent on the usage patterns of various professionals. Different professionals use a variety of tools and making tool belt consumes time. Some of them are heavy and sharp, and the others are lighter and not dangerous. If you are on the lookout to buy a framing tool belt, list of the tools. It would help you to find a belt that can store all the tools. The leather is a viable material, and it forms the constituent for a majority of tool belts. If you have a sore back, consider opting for a tool belt with suspenders. If you have a wider end, consider choosing for a stretchable tool belt.